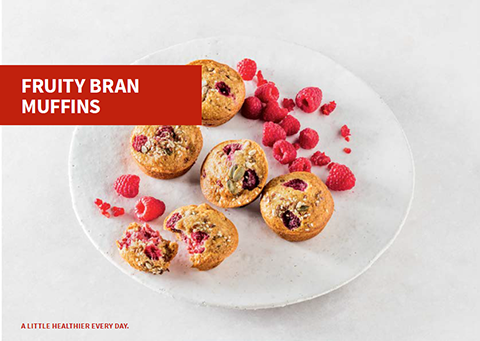 Fruity Bran Muffins
40 servings
45 min
Spring is here! The days are getting longer, the air is getting fresher, and everyone seems to be in a good mood. In spring a wide array of veggies and fruits are finally available that will make you feel nourished while also gently cleansing and resetting your digestive and immune systems.
If you have a sweet tooth, try our Healthy Fruity Bran Muffin: you can treat yourself and still eating healthy. They are the perfect on-the-go breakfast or snack and are freezer friendly.
Our Fruity Bran Muffins taste amazing and they are good for you too! Bran muffins are packed with vitamins, minerals, and other important nutrients such as fiber.
INGREDIENTS
2 eggs
125ml sunflower oil
220g brown sugar
500ml low fat milk
150g nutty wheat flour
210g cake flour
60g digestive bran
5ml salt
10g bicarbonate of soda
150g chopped dried fruit, figs, apricot, apple or fresh fruit like berries
150g dates, chopped
5ml vanilla paste
5ml cinnamon, ground
METHOD
Whisk the eggs, oil and sugar together in a large bowl. Add the remaining ingredients and mix until well combined.
To bake, preheat the oven to 180°C.
Grease the muffin pan well and fill each hole about two thirds full with the muffin mixture.
Bake for about 20 to 25 minutes.
Remove from the tray to allow them to cool down.
Store in an airtight container in the fridge.
The muffin batter will last for 30 days in the fridge and can be baked fresh every morning.
Back to Moodboard